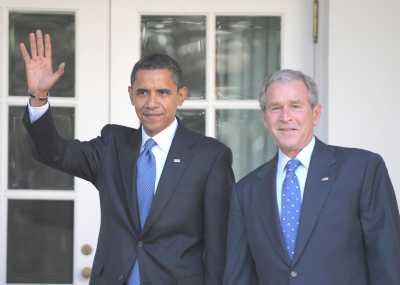 The President-elect Barack Obama visited George W.Bush in the Oval office at White House in a private meeting.What could it be for?Why Bush invited Obama just within the first week after he won the historical election?What chats really took place between these two icons?
US President-elect Barack Obama and his wife have paid their first visit to the White House in Washington since last week's historic vote.White House Press Secretary Dana Perino described the sessions as "good, constructive, relaxed and friendly," while Obama spokeswoman Stephanie Cutter said the two men engaged in "a broad discussion about the importance of working together throughout the transition of government in light of the nation's many critical economic and security challenges."
Later President Bush conducted his own tour of the living quarters for Obama, including the office he uses, the Lincoln bedroom and the bedrooms for the Obama daughters.Obama has said that he won't get involved in policymaking before Jan. 20, analysts said that Bush needed to hear the president-elect's thoughts, particularly if international leaders asked about differences between the two.

"This shows that there isn't a lot of tension between President Bush and President-elect Obama," said John Fortier, a political analyst at Washington's American Enterprise Institute, a conservative research center.